Yogita Chai Masala Organic 200g   $25.95
Yogita Chai Masa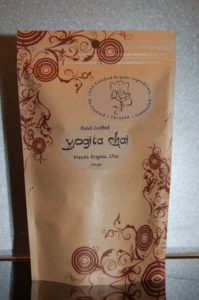 la Organic uses 100% Certified Organic Spices & Tea.
A special blend of organic Masala Spices and Ceylon Black Tea for your next Chai Latte expressing deep, rich and delicious traditional Indian style Masala Chai flavours which invigorate the body & soul!
For over 20 years we have been refining our Chai recipe and making it with much love, taking care in how we hand-craft the blending of ingredients to share with our family and friends.
Enjoy 🙂
Serves 36 (275ml cups of chai latte) per 200g pack
Supplied in a Resealable Pouch.
Purchase before or after class at Yogita Yoga Shala
Certified Organic Ingredients
Tea Black Ceylon BOP: Camellia sinensis – Certified Organic & Fairtrade & Pure Ceylon Tea
Green Cardamom: Elettaria cardamomum – Certified Organic
Ginger: Zingiber officinale – Certified Organic
True Cinnamon: Cinnamomum verum – Certified Organic
Nutmeg: Myristica fragrans – Certified Organic
Star Anise: Illicium verum – Certified Organic
Cloves: Syzygium aromaticum – Certified Organic
Peppercorn Black: Piper nigrum – Certified Organic