Yogita Chai Masala Organic
Yogita Chai Masala Organic 200g   $25.95
Our Chai Journey
Our enjoyment of Indian Masala Chai (Indian spiced tea) started over 25 years ago when we were travelling travelling through Nepal and India. These trips through the Himalayas were for both adventure and to deepen our understanding and practises of yoga. One of the benefits of travelling through India and the Himalayas, is that there are Chai Wallah's (chai vendors) everywhere, carrying their trays of glasses filled with hot chai latte around the streets, or even selling them through your train window whenever you pull up at a station!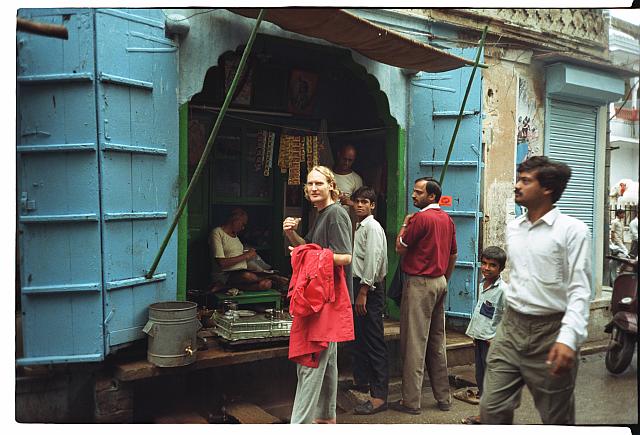 It didn't take us long to fall in love with the strong and invigorating spice flavours that you get in a good cup of Indian masala chai latte and have ever-since been attempting to match the blends we enjoyed the most. The picture below is one of my favourite Chai Wallah's huts in 1992, just down the track from where we were studying yoga in the Himalayan village of Dharamkot, just above McLeod Ganj, Dharamasala.
Traditionally the Chai Wallah would make chai latte by boiling the spices and tea in a large pot of water for 5 to 10 minutes, then adding milk (quite often powdered milk in many parts of India) and bringing this to boil, then
adding lots of sugar or condensed milk. Followed by dramatically pouring the very hot chai latte from one pot to another at arms-length apart in the air, to mix and steep the chai. Then finally straining the mixture into a tea pot or glasses. This traditional process takes time and unfortunately many people today with their hectic lives do not make the time to indulge in this ritual. This has led to the production of many new 'instant' blends of chai latte, with unfortunately all their artificial ingredients!
There has been phases during our lives when spare time seemed a luxury, yet we still wanted a good cup of chai, so we looked for ways to make great traditional healthy masala chai latte in almost the same time it takes to brew a normal cup of tea. We have almost managed this with our Organic Yogita Chai blend and are now happily sharing it with you 🙂 (To see how… refer How to quickly brew a Yogita Chai Latte)
This 'chai journey' was always a personal passion but when we opened our own yoga school and students started attending our Yoga Philosophy and Movie Nights to raise funds for local charities, they really enjoyed drinking our special blend of 'Masala Organic' Chai Latte with its deep and rich flavours that we provided during the breaks! So after 20+ years of refining the recipe and making this chai with much love and care, in how we hand grind, mix and brew the ingredients to share with our family and friends, we are meeting the call! Since many people kept asking for more of our chai to take home, we have finally arranged to bring this traditional authentic taste of India to you, using only 100% Certified Organic ingredients!
We hope you enjoy Yogita Chai as much as we do 🙂
Namaste
Andrew and Evelyn
You can buy Yogita Chai before or after class at Yogita Yoga Shala